I am thrilled to introduce
Rachel McClellan
, author of
FRACTURED LIGHT
, the first book in a new paranormal series in which a young girl learns how to manipulate the light around her. I first learned about her via Elana Johnson's blog, where Rachel wrote
a great guest post about listening to our characters
.
Cindy C. Bennett,
author of Geek Girl
, says that FRACTURED LIGHT's protagonist, Llona, "is a hero worth cheering for." Yay!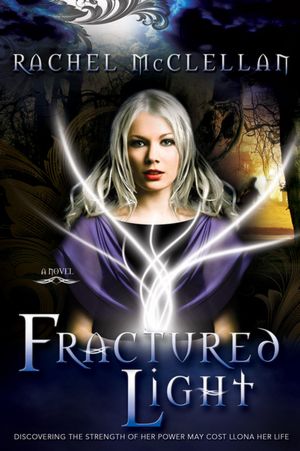 I interviewed Rachel via email; coincidentally, she is currently a fellow Mainer (though she's moving to Rhode Island this summer). We talked about good dialogue, how our whereabouts affect our writing, and dirt bikes.
One Lucky Winner (you must comment on this post) will get a hardcover copy of FRACTURED LIGHT!!
Extra entry if you Tweet it up
. Contest ends next Tuesday, May 1.
Without further ado, here's Rachel...
EM: There's lots of great dialogue in FRACTURED LIGHT. Can you tell us a little bit about how you write dialogue, whether it comes easy or hard, how you slip into the teen "dialect"?
Rachel: I love dialogue. When I write I have a tendency to write really fast as if I'm watching a movie. Sometimes I will have pages of straight dialogue. During the editing process, I will then go back and add in movement, dialogue tags, internal thoughts, etc. Because I have worked with young adults for almost fifteen years, I'm always around teen dialect. It's made writing for YA's so much easier. Otherwise I'd think teens still said things like, "Radical" and "Psyche!" and "Not!" and "Then why don't you marry it!"
[They don't? Crap.]
EM: How did you come up with your protagonist's name, Llona (pronounced E-o-na, she tells us early on)?
Rachel: Llona means light. And I wanted to give Llona something she shared with just her parents, and that is why she insists that everyone says her name the way it looks and not the way her parents did, which is E-o-na.
EM: You're a fellow New Englander, correct? [Turns out she was in Idaho before she came East.] How do your physical surroundings affect what you write?
Rachel: I love the New England area! There is so much history that it's easy to find inspiring places to write. I particularly love the forests (my friend here thinks it's funny I say "forest" and not "woods") and the graveyards. I can't drive by one without pulling in and checking it out. Because I like to write things of a darker nature, I tend to gravitate toward surroundings that inspire such writings. Like I prefer to watch a moon rise compared to a sun rise.
EM: In addition to two sequels to FRACTURED LIGHT, you are also working on a few other projects (phew!). Can you tell us a bit about any/all of them?
Rachel: Absolutely! Book two of Fractured Light, Fractured Soul, will be available next year in addition to humorous memoir I wrote titled Confessions of a Cereal Mother. Currently, I'm in the editing phases of Unleashed, a sort of paranormal YA Jekyll and Hyde book. In the last few weeks I've had two new projects simmering in my head. Both are good, but I never begin a story unless I know the end. I find writing toward an ending I already know helps prevent writers block and keeps the story focused. Last night the ending to one of them came to me and I'm really excited about it. Now I can get back to doing what I love most - writing!
EM: What is your favorite non-reading mode of leisure/entertainment - are you a movie buff? a TV addict? a theater nerd like me? Sporty Spice? the next Rachael Ray? secret online gamer?
I love movies and go very often. Same with TV and theater. But the reason I watch them has changed as of a few years ago. It used to be just for enjoyment, but now I watch them all to see how they are paced, character development, motives, etc. Some of my favorites are Walking Dead, Vampire Diaries, Supernatural, Being Human, Alias. Movies - I love the Underworld series, Moulin Rouge, Count of Monte Cristo, Tim Burton films. I love any Broadway Play. Oh, and sports. I love sports and play them whenever I get the chance. My favorites are racquetball, volleyball and football. And I wish I had more time to snowboard. I used to do that all the time. That and riding dirt bikes. I wish there was a legal drug that made it so I didn't have to sleep. It wastes so much of my time.
[E says: I second that!!]